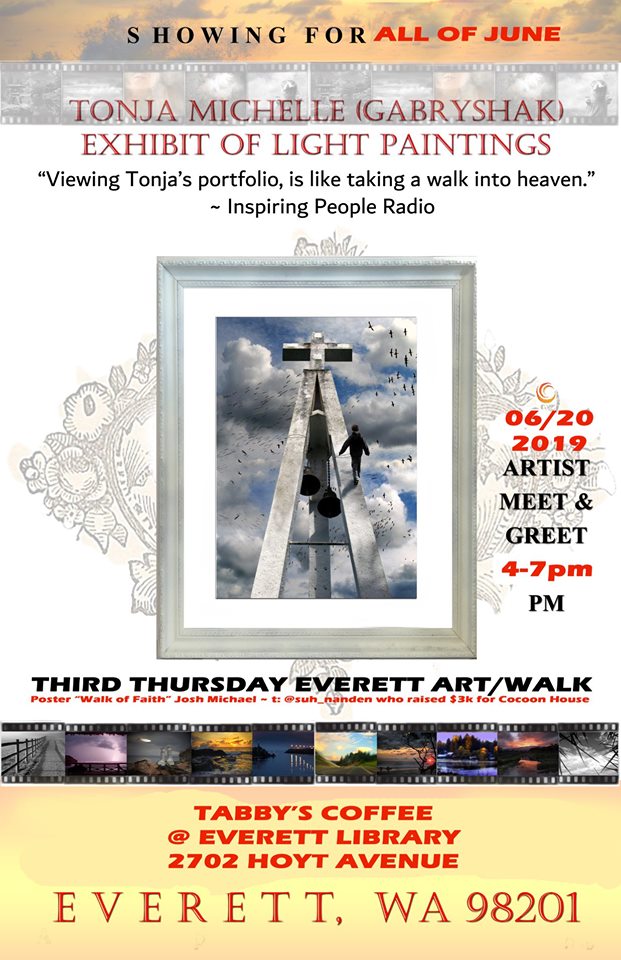 Featured artist is Tonja Michelle from BeauTonianArtsCollection. Her artworks is strikingly beautiful and engages the viewer to ascent into the image to absorb more.
Returning artist is Jordie Rodrigues and his stunning black and white photography from 35mm film with an antique camera are amazing! In Jordie's words: "I am a photographer that shoots primarily with vintage film cameras on 35mm, medium, and large formats, I mostly shoot in black and white film".
Plus celebrate; wine, refreshments & LIVE MUSIC with Chelsea BonaCello on (you guessed it, the) Cello & mentor for the Jimi Hendrix Academy, Roberto Rudolfo on guitar, will swoon guests with their delicious improvisational originals.
Tabby's Coffee 2702 Hoyt Ave is open during the art walk from 4 to 7pm with free parking behind the Everett Library with handicap access, is available until the library closes at 6:00 p.m. We are family friendly so bring the whole family to see the featured artists this month.
If you are interested in showcasing your art at Tabby's Coffee and want to be part of the Everett Art Walk you can contact tabbyscoffee.com