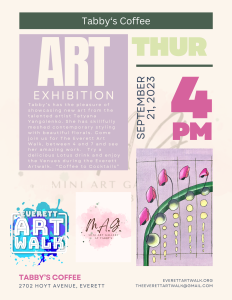 The MAG at Tabby's has the privilege of showcasing local artist Tatyanna Yangolenko. Tatyanna is a Siberian, self-taught artist who loves expressing herself through all forms of artistic expression. She has always enjoyed art and finding new techniques, methods, and subjects.
She will be at the MAG at Tabby's during the Everett Art Walk, on September 21st, for a time of Mediation, Art, and Music, where you can meet this talented artist! We will start at 4:15 pm and will go through 7:00 pm. Relax and let your creativity take shape with her special Art for you to explore and create.
We are open early due to parking from 4-7pm 2702 Hoyt Avenue, Everett, WA 98201. Free Parking until 8 PM and wheelchair access.