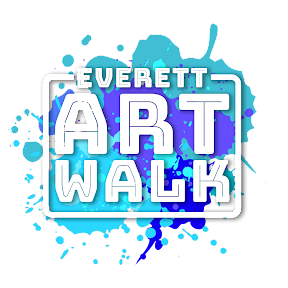 Venues must open during the Everett Art Walk, the 3rd Thursday of the month. The featured or designated artist should be available for the event.
Venues must have a Designated Art Space that is accessible for the Walkers to view the Artist's artwork. If the Venue is a food establishment, it must have a designated Art Space away from the customers eating or drinking.
Everett Art Walk is a Free event and if your Venue has a paid event during the 3rd Thursday you must have a designated Art Space to view the art or decline participation in that month's Art Walk.
Membership Fees must be current. $100 yearly or $25 for a Pop-Up.
New Showcasing Artists must be changed every two months. If using an artist from the Art List or a previously showcased artist of the Everett Art Walk, you must use current and/or different biographies, and images for marketing in the Venue, website, and social media.
The Everett Art Walk's marketing provided to Venues must be visible to designate a participating Venue on the Walk. Everett Art Walk's Logo should appear on your social media.