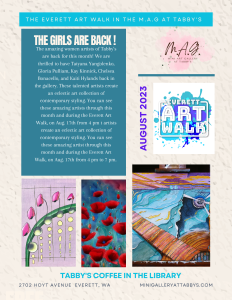 The Girls are Back at Tabby's
The M.A.G. at Tabby's is thrilled to have back 5 talented female artists, Gloria Pulliam, Kaiti Hyland, Tatyana Yangolenko, Chelsea Bonacello, and Kay Kinnick. Their dynamic art creates an amazingly eclectic showcase of contemporary styling that ranges from florals to mythos.
Tabby's opens early at 4:00 so you have time to grab a delicious Lotus or Coffee drink while you sip and walk through all the various galleries on the walk. Sip and Walk: Coffee
We are open early due to parking from 4-7pm 2702 Hoyt Avenue, Everett, WA 98201. Free Parking until 8 PM and wheelchair access.