This December, Tabby's is proud to feature Everett Artist and longtime Library worker, Joan Blacker. She will show a wide assortment of her artwork in Tabby' Coffee shop at the Main Library. Joan's artwork extents over a period of 35 year and you can see her beautiful watercolor paintings, colored pencil drawings, and mixed media photography on display.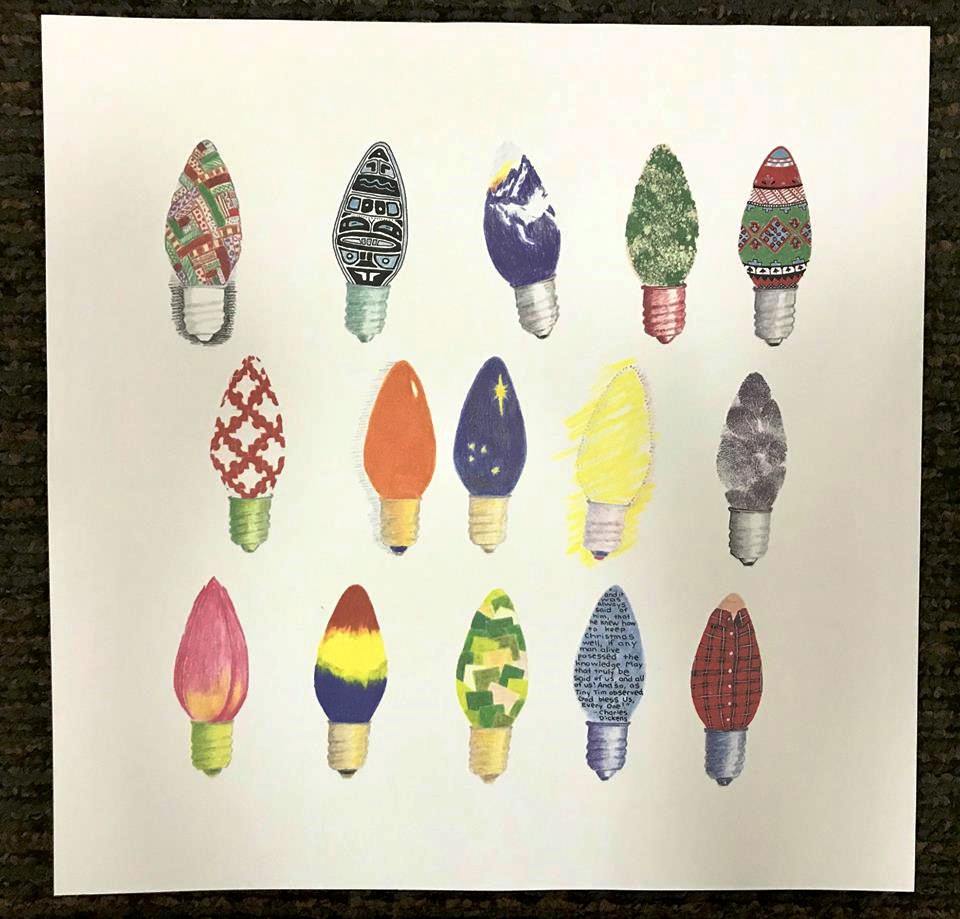 Additionally, Blacker has graciously made available a Christmas Light Bulb print for free to anyone joining Everett Public Library's Friends of the Library group during the duration of the show. The cost of joining the Friends group is $15 for seniors, and $25 for regular membership. Joan has offered a reproduction of her artwork to be raffled off during the Everett Art Walk for one lucky guest!
Tabby's is additionally showcasing local artist:
*Mariano Ortiz who has created rustic bird houses in various sizes and character.
*Vicki has made whimsical mermaid blankets that will delight anyone on your shopping list.
*Lialia Harris better known as Crafty Lalia. She has beautiful and crafted card and will be offering paper crafting classes at Tabby's in the new year.
*John O has shared his lovely nature pictures. Only a few are available!
*Nancy Durgin is showcasing her stunning semi-precious handcrafted bracelets. She will be here during the event and you can have her create a one of kind creation for you or for a unique holiday gift.
Tabby's Coffee is open 20th from 4-7pm. with several of our artist joining us and we will be offering a light holiday reception at 2702 Hoyt Ave, Everett, WA 98201.
There is free parking behind the Everett Library with handicap access and we are family friendly so bring the whole family to see the featured artists this month. If parking in the garage, please note that the library closes at 6 and the gates are closed to the garage.
Tabby's is looking for artist for the new year and youth artist that want to showcase their work. Go to our website or come in and give us your contact information and some information about your artwork.